There is a lot of sweetness in the world, but it has many problems and what we are doing about it.
Million tonnes
A study by the Global Journal of Disease, published in the medical journal 'The Lancet' in the 2019 issue, provided an opportunity for Israeli media to rejoice earlier this year.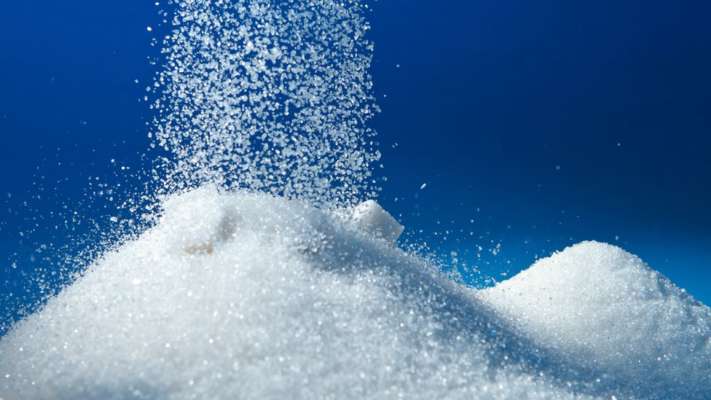 And the reason was that after analyzing health data from 195 countries, it was revealed that Israel is the country with the lowest dietary fatality rate worldwide.
After the results of this research came out, articles in medical journals around the world were published in which people were encouraged to eat the foods that Israelis eat.
However, if you have consumed the daily diet you eat in Israel, the expectation is that your diet will be higher than the average citizen's diet in any other country in the world.
'destruction'
In 2018, per capita citizen in Israel consumed 60kg of sugar - an average of 165 grams per person per day.
According to data obtained from the International Sugar Organization, it is the most consumed sugar worldwide.
Getty Images Fried donuts are a favorite among festivals in Israel
Professor Atmar Raz, head of the Israeli Diabetes Council, says: "Every adult in Israel eats 30 teaspoons of sugar on average every day." This is a devastating situation. '
The top five most consuming Chinese countries include Israel, as well as Malaysia, Barbados, Fiji and Brazil.
North Korea is the least consumed sugar, with an average of 3.5kg of sugar consumed in 2018.
The average rate in North Korea's neighboring South Korea was 30.6kg.
In the United States, the problem of food-borne illness is no secret. However, the American nation could not make it to the top 20 countries that consumed more sugar because the per capita population consumed 31.1 kilograms of sugar.
India is the most consumed sugar consumer. India consumed 25.39 million metric tons of sugar in 2018, which is more than the total sugar consumed throughout the European Union.
Definition of sweetness
These sugar consumption statistics do not determine the amount that people put into their own drinks or diets.
AFP In some things sugar is dangerously high
In addition to sugar, there is also 'free sugar' that is added to the preparation of foodstuffs or is naturally present in large quantities in certain foods, such as fruit juice.
According to the International Sugar Organization, the total consumption of sugar and 'free sugar' in 2001 was 123.4 million tonnes, which increased to 172.4 million tonnes in 2018.
This cumulative consumption means that the world consumes an average of 22.6 kilograms of sugar each year.
Mass consumption
The question is why do we eat so much sugar?
A simple explanation of this is that traditionally sugar is an inexpensive and readily available commodity, a major source of energy in our body.
The Food and Agriculture Organization of the United Nations says, "In India, sugar is an essential commodity and an inexpensive source of energy for the poor."
In India, sugar consumption has increased significantly in recent decades, with consumption rising from 2.6 million tonnes to 13 million tonnes.
In the last five decades, it has become an integral part of our diet, while consumption of processed food has increased worldwide.
Data obtained from the US Department of Agriculture shows that the global market for processed food accounts for 77% of the total food market in the world.
Sugar is an integral part of processed food, which not only improves the taste of processed food, but also its shelf life.
Many medical authorities around the world believe that overuse of sugar is one of the leading causes of obesity in the world.
Low consumption of sugar
In 2015, the World Health Organization revised its recommendations for using less sugar.
According to the latest recommendations, it is now suggested that adults and children reduce their consumption of 'free sugar' by less than 10% of their total energy intake.
Getty Images According to the World Health Organization, daily consumption of 50 grams of sugar is essential for health
The World Health Organization says a five percent reduction in sugar consumption, ie about 25 grams (or six teaspoons), will have a beneficial effect on your health.
Victoria Taylor, a nutritionist with the British Heart Foundation, says: "It is now clear that health officials in the department are now suggesting consuming less sugar. It is clear that sugar consumption is high in all age groups and in every income category. '
Implementation of tax
In addition to providing advice, some countries have taken practical steps in this regard. Over the past few years, more than 20 countries have increased the tax rate on high-sugar products, especially soft drinks.
At the beginning of this month, Singapore became the first country in the world to ban the promotion of beverages that contain excessive sugar consumption. The ban will come into force next year.
Getty Images Singapore is taking steps to prevent obesity
Singapore Health Minister Edwin Tang addressed the Congress October 10 saying, "If we did not intervene, our rapidly aging population and the spread of chronic diseases would lead us to an unstable and costly health system." And this will be the result of the declining health conditions. "
In this regard, focusing more on 'sugar drinks' is not just accidental. The sugar in such drinks is high in fat and low in nutrition. But even so, these drinks are widely used around the world.
According to data from the Howard School of Public Health, 355 ml of orange soda contains 11 teaspoons of sugar.
In many medical studies obesity has been directly linked to overuse of sugary drinks. Such drinks increase the risk of type 2 diabetes, cardiovascular disease and premature death.
Bad reputation
Getty Images Soft drinks contain high amounts of sugar, but they are still popular worldwide
However, some people think that the Chinese are facing immense frustration.
Jose Orio, president of the International Sugar Organization, told the BBC that only sugar was being 'targeted' by ignoring other elements involved in people's unhealthy diet.
"Sugar is becoming a bad reputation, but we must not forget that it is the most important source of physical energy. Even in mother's milk it is found naturally. '
He said, 'You can't just blame sugar for dealing with obesity issues. There are other factors that are playing a role, such as the lack of physical activity and the diet we are eating.
Jose added that 'it is very clear that nothing is good enough.'
Poor food system
Holly Gabriel, a nutritionist specializing in Action Sugar, says that diabetes is a big part of the problem.
"The rise in obesity is due to a defect in our food system," she says.
"That's why a lot of steps need to be taken, such as the implementation of taxes and the implementation of necessary reform programs."
On the other hand, Jose Oreo, president of the International Sugar Organization, questioned the long-term utility of taxes, saying it would not stop criticism of the food industry and its use in sugar.
"The implementation of taxes is only a new source of income for governments. But the food industry must take part in this debate. '
Getty Images Excessive sugar intake can increase the duration of packet recipes.
In some countries, the food-related industries have done just that.
Last December, several German food companies signed an agreement with the government to reduce sugar and salt intake in processed foods by 2025. Under this agreement, sugar intake in soft drinks will be reduced by 15%.
But what about taxes? Is tax enforcement really beneficial?
What about cake?
Researchers at the University of Otago have found in a comprehensive survey that a 10 percent tax on sugar drinks reduced their sales and consumption by 10 percent.
In some places, this restriction has changed the way food and drink manufacturers make their products to avoid taxes. According to the Action on Sugar organization in the UK, the amount of sugar in beverages has decreased by 28% since April 2018.
Since the tax on sugar is a new thing in many countries, nothing is yet known about its potential impact.
Experts at the London School of Hygiene and Tropical Medicine tested the tax on biscuits, cakes and sweets, which showed positive effects on the public health.
Getty Images According to a study, the tax on sugar has reduced its use but its effects have not yet been fully demonstrated.
Oxford and Cambridge universities jointly conducted an analysis to estimate the impact of a 20% tax on sugar-made items.
The results of this experiment showed that the increase in sugar consumption among people of different incomes reduced the average weight of one kilogram three kilograms a year.
Interestingly, they also found that the increase in the price of sugar drinks alone reduced the weight by 203 grams a year.
Tax on snacks
Britain sets the example for policy reforms.
Pauline Shelbeck, who led the experiment, explained that in the UK, consumers eat more sugar through snacks rather than drinks.
Shelbeck and his colleagues estimate that the prevalence of obesity can be cured by the snack tax, and that tax could reduce obesity rates by two to seven percent a year.