Within hours of the ceasefire in Gaza, Palestine fired rockets at Israel
Palestinian militants fired 450 rockets toward Israel in the Gaza Strip just hours after the ceasefire between Israel and Palestine.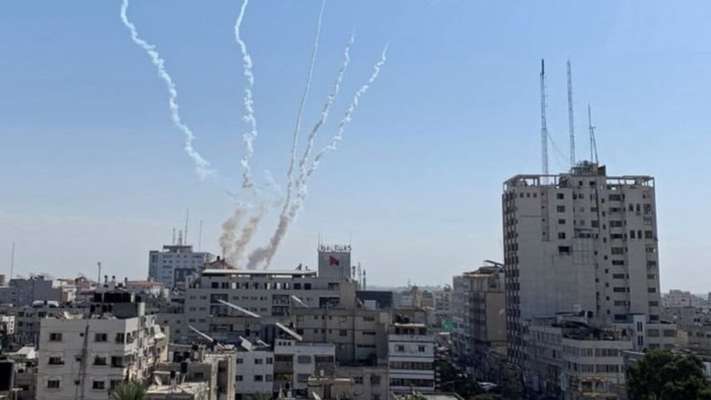 The ceasefire between Israel and Palestine came after two days of intense fighting.
Palestinian officials say Israeli airstrikes killed eight people of a single family before the ceasefire.
Local sources say the recent violence killed 32 Palestinians. According to him, the violence began after Israel killed an extremist leader.
Israel says there were more than 20 fighters in Palestinian killings. '
Also read
AFP
Medical sources on both sides say recent violence has left dozens more Palestinians and Israelis injured.
The Israeli military says the Palestinian Islamic Jihad (PIJ) militant group fired more than 400 rockets at Israel while Israel launched an airstrike on PIJ targets.
The latest violence began on Tuesday morning after Israel killed Baha'a Abbottah, PIJ's commander.
Israel says it was responsible for several rockets fired from Gaza and was planning an attack.
The deadliest incident of a two-day war between Israel and Palestine occurred Wednesday night when an Israeli air strike on a house in central Gaza killed eight members of a single family.
According to the Gaza Ministry of Health, all the dead were civilians, including a woman and a child.
Israeli military says airstrikes have killed the PIJ commander who according to him was the head of the rocket unit.
After the start of a ceasefire between Israel and Palestine, UN Secretary-General Nikolae Maldinov said that both the UN and Egypt had "prevented the most dangerous escalation in and around Gaza from going to war." Have worked hard for. '
Earlier, cross-border violence between Israeli and Palestinian fighters began after a Palestinian Islamic commander was killed in an Israeli airstrike in Gaza.
AFP
The rocket fired toward Israel on Wednesday night, after which Israeli planes launched counter-attacks.
The Gaza Ministry says 32 Palestinians, including children, were killed in the Israeli offensive.
On the other hand, 63 wounded people were treated in Israel.
What's the latest situation?
PIJ militants fired rockets at Israel around 04:30 pm on Wednesday at Grange's standard time, with air red sirens being heard in southern and central Israel.
The Israeli military said in a statement that at least 360 rockets were fired from Gaza on Tuesday. The statement added that 90 percent of the missiles were stopped.
Israel Defense Forces (IDF) says it bombed more PIJ targets on Wednesday, including a military headquarters in Khan Younus and a long-range rocket factory south of the Gaza Strip. Is.
The IDF says that '20 terrorists' were killed in the operation, most of them from the PIJ.
Gaza Ministry of Health says Israeli airstrikes killed 32 people.
Reuters
According to an Israeli airstrike on Thursday morning, six members of the same family were killed.
The PIJ, on the other hand, said the dead included members of its military wing, the Holy Spirit Brigade. Accordingly, field commander Khalid Farage was killed in an operation in central Gaza.
Meanwhile, UN Secretary-General of the Middle East Nikolae Maldinov has warned that ongoing violence on the sides is 'very dangerous'.
"The indiscriminate use of rockets and mortars against population centers is absolutely unacceptable and should be stopped immediately," he said. "No attacks against civilians can be justified."
The Global Children's Rights Organization, Save the Children, said in a statement that it was concerned about rising deaths. The organization has called for an immediate ceasefire.
What happened on Tuesday?
Israeli air strike on a residential building east of Gaza Tuesday morning killed Baha Aboulta, a senior PIJ commander and his wife.
According to Syrian state media, an Israeli operation in Syria at the same time targeted the home of a leader of an Iranian-backed group that resulted in the death of two people.
Meanwhile, Israeli Prime Minister Benjamin Netanyahu has termed Baha'a-Abul Aftah an 'arche terrorist' and a 'ticking bomb', calling it a major threat to the country.
Baha'a Abul Ata is believed to have been behind the recent rocket firing from Gaza, which also included the attack on Sidrat 10 days ago.
Israel has said that militants in Gaza have crossed the 'red line' and fired more than 200 rockets.
AFP
What is the position of the parties?
A PIJ spokesman told Hamas-affiliated Shahab News Agency that it was not appropriate to discuss Egyptian efforts to end the violence while the group is still resisting the death of Baha'a Abul Aitah.
He said it is possible to have a calm discussion when we complete this process.
The Israeli Prime Minister warned the PIA ahead of a special cabinet meeting on Wednesday that Israel would continue to attack Gaza if it did not stop the rocket firing.
He added, 'They have only one way to either stop these attacks or suffer maximum blows.'